Author: Alwyn Hamilton
Publisher: Faber & Faber
Series: Rebel of the Sands #1
Published: February 4th 2016
Rating: 5/5
She's more gunpowder than girl—and the fate of the desert lies in her hands.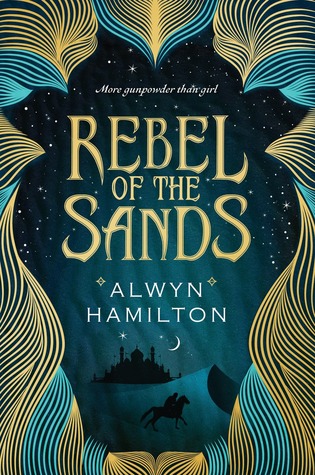 Mortals rule the desert nation of Miraji, but mystical beasts still roam the wild and barren wastes, and rumor has it that somewhere, djinni still practice their magic. But there's nothing mystical or magical about Dustwalk, the dead-end town that Amani
can't wait to escape from.
Destined to wind up "wed or dead," Amani's counting on her sharpshooting skills to get her out of Dustwalk. When she meets Jin, a mysterious and devastatingly handsome foreigner, in a shooting contest, she figures he's the perfect escape route. But in all her years spent dreaming of leaving home, she never imagined she'd gallop away on a mythical horse, fleeing the murderous Sultan's army, with a fugitive who's wanted for treason. And she'd never have predicted she'd fall in love with him…or that he'd help her unlock the powerful truth of who she really is.
By far my favourite book of the year currently. I haven't read many, but this book tops all those I have read in the past 6 months. Thinking back, there is not one thing that I dislike about this book, everything is just utter perfection. The mythological creatures and fantasy of this book is what makes it so exciting, with myths and legends such as Djinni and skinwalkers, drawing you in as you learn more about them and the powers that they hold.
The protagonist Amani is absolutely lovely. She lives in the desert with her aunt, uncle and several cousins as her parents died when she was younger. To earn her stay and keep her aunt and uncle happy, who aren't the nicest pair of relatives, she has to work in the family shop and saves every penny she gets so she can run away to Izman – the Hunger Games capital of the book – and escape her miserable life. From an early age she has learnt to shoot a gun, aiming at tin cans and become an absolute pro at it, resulting in her never missing a shot ever.
In order for her to gain more money as she becomes desperate to leave, she goes to a gun fighting center to bet her money and compete. Whilst there she comes across a lovely foreigner named Jin. Jin is one of those extremely charming and mysterious characters who you just can't seem to get enough of. From the offset we don't really have a lot of information on Jin apart from that he isn't from those parts of the desert and that he has a secret agenda.
As the book progresses, we gain more insight into Jin as a person and fall in love with him even more after each page.
Throughout my time as a reader, I don't think I've ever read a book that has had so many shock twists and revelations where you're left saying to yourself – 'Oh my God, you're kidding me, I can't believe it' – I was literally like that for the whole of this book as secrets where revealed and you found out new things about each character.
Like any book, there are bad guys and good guys. The bad guys in this book are the Sultan, his oldest son Naguib and leader of the royal army, and the Gallan soldiers, a group of men whom the Sultan has an alliance with and are ruthless, disgusting people who desperately need to be wiped out. With the bad guys being so horrible, you are constantly left rooting that they are defeated and that the good guys are triumphant in their mission as a rebellion. Yes, there is a rebellion, and good one at that.
As you can see, there is never a dull moment when it comes to this book and it's full of all things exciting and interesting. Everything about it is brilliant and you will not want to put it down (no matter how cliche that saying is, it's very true). My only problem is, is that with it only being recently released, I'm going to have to wait a while for the second book, but I'm sure it will be worth more than the wait!