Author: Jennifer L. Armentrout
Publisher:  Harlequin
Series: Stand Alone
Published: May 31st 2016
Rating:  3.5/5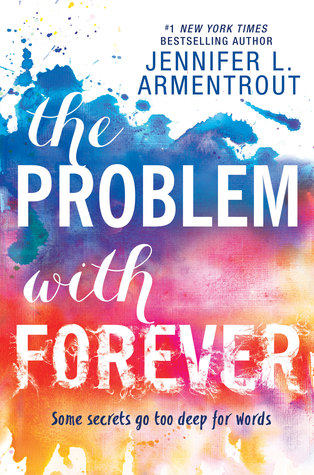 For some people, silence is a weapon. For Mallory "Mouse" Dodge, it's a shield. Growing up, she
learned that the best way to survive was to say nothing. And even though it's been four years since her nightmare ended, she's beginning to worry that the fear that holds her back will last a lifetime.
Now, after years of homeschooling with loving adoptive parents, Mallory must face a new milestone—spending her senior year at public high school. But of all the terrifying and exhilarating scenarios she's imagined, there's one she never dreamed of—that she'd run into Rider Stark, the friend and protector she hasn't seen since childhood, on her very first day.
It doesn't take long for Mallory to realize that the connection she shared with Rider never really faded. Yet the deeper their bond grows, the more it becomes apparent that she's not the only one grappling with the lingering scars from the past. And as she watches Rider's life spiral out of control, Mallory faces a choice between staying silent and speaking out—for the people she loves, the life she wants, and the truths that need to be heard.
I must admit, before reading this book I was expecting great things. I've never read any of Jennifer's books before, but many of people of the interweb have and all I've heard are good things about her writing and books. I was pleasantly surprised when I read this book, although it hooked me straight away, I wasn't completely blown away by it. I overall did thoroughly enjoy it though. The thing I loved most about this book has got to be the characters. There are mean ones, lovable ones, annoying ones and ones that you want to give a little cuddle to.
One thing I must admit about this book is that it always kept you on your feet. From the offset there is a sense of mystery and a need/want to know answers of Mallory's past.
Mallory herself is a bit of an iffy character. She's been through a rough time (understatement) as a child, which has therefore affected her in her later life. She has been conditioned to be quiet and has a substantial fear of speaking to people or being in public. When she was a child, living with foster parents who did unimaginable things to her, the only bit of happiness she had was the other foster child Rider who becomes someone that every girl would swoon over. Attractive. Artistic. Incredibly sensitive and caring. Overall a really loving and brilliant character.
Further down the line, Mallory has got out of her terrible life and has been adopted by 2 doctors who seem like the best parents to have. They are incredibly supportive of Mallory and understand why the way she is. Due to her reaching the old age of 17, she decides that she wants to be a 'normal' teenager and go to public school, opposed to being home-schooled. There she is met with the biggest surprise of her life. It has been 4 years since a terrible event took her away from Rider and she faces him in one of her classes.
Their relationship that re-blossoms throughout is truly a beautiful thing. Despite both changing in more ways than one, and being 4 years since seeing each other, their bond is as close as ever. Still feeling the need to protect each other their relationship goes through many ups and downs, leaving you eager to know where it will end up.
These two are not the only characters in the play, let me reassure you. There is Ainsley, Mallory's best friend who is a little bit perfect herself. Without knowing the full story of Mallory's past she is still there for her whenever she is needed to be a shoulder to cry on or for a bit of rant. She herself, goes through some pretty traumatic stuff and their friendship still holds out stronger than even.
Then there is Jayden and Hector. These are the 2 boys that Rider lives with in his foster home. His two non-related brothers who are incredible characters. Hector is a very attractive and charismatic character who all the girls like (after Rider) and works hard for every penny in order to get a better future for himself. Jayden, his younger brother, is equally, if not more so, charismatic and charming in so many ways. He makes Mallory feel welcome and sticks up for her before even knowing anything about her and just makes your heart melt. Unlike Mallory Rider didn't end up living with two wealthy doctors, so him, Jayden and Hector work their hardest to try and help Mrs Luna (Hector and Jayden's Grandmother who they live with) as much as they can with money. Although this is a very sweet thing to do and your heart is probably melting from the loveliness of them all, it isn't all straight forward. All 3 of the boys get into trouble for more than one reason and leads to all sorts of devastation and trouble. There's no break from it in this book I'm afraid.
Overall, this book was a very enjoyable read, and if you're someone who likes a broken character and crying at books then I highly recommend it. It was beautifully written and addressed important issues delicately, making this book something a little bit special. The one thing about this book is that during some parts I felt a little let down as I didn't get the impact I was expecting and Mallory got a little bit annoying at the book progressed and no one likes an annoying character now do they? But a brilliant and lovely read that satisfied me very much.