Author: Vanessa Ronan
Publisher: Penguin
Series: Stand Alone
Published: May 5th 2016
Rating: 4/5
She can forgive. They can't forget.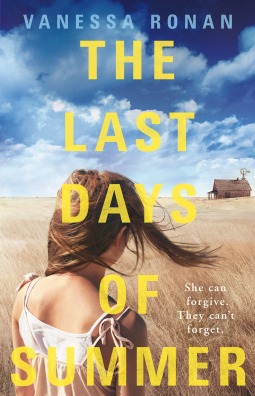 After ten years in the Huntsville State Penitentiary, Jasper Curtis returns home to live with his sister and her two daughters. Lizzie does not know who she's letting into her home: the brother she grew up loving or the monster he became.
Teenage Katie distrusts this strange man in their home but eleven-year-old Joanne is just intrigued by her new uncle.
Jasper says he's all done with trouble, but in a forgotten prairie town that knows no forgiveness, it does not take long for trouble to arrive at their door.
From the first glance at this book I was super excited. It isn't the usual kind of book that I would go for, but I really enjoyed reading it. From the offset, it was extremely riveting with its air of mystery and characters that we don't really know a lot about making it that little bit more exciting.
The book revolves around the aftermath of slightly creepy Jasper Curtis's release from prison after spending 10 years there for a mysterious crime. He goes to live with his sister and her two daughters, Joanna and Katie, who were left to deal with the consequences of Jasper's action, making it slightly awkward for them with accusations and whispering of the residents of the small town.
When I first began reading, I really didn't know what to think of Jasper; he had committed what seemed like a terrible crime and was generally just a bit of a creep. He isn't in denial about his crime when released and understands that what he did was wrong, but he doesn't really seem sorry for doing it. He some somewhat proud and not one bit remorseful making his that little bit more strange. There was always an air of cautiousness when the book focused on him, as if even the flies and crickets were sneaking around when within his presence. I didn't like him. Comments he made about people and actions towards them just kept me wandering throughout, why is Lizzie letting this man live in the same house as her and her children? However, he was very well-written and Ronan did a brilliant job of allowing him to make my skin crawl.
In  addition to Jasper creating tension throughout, the townspeople also added to this. Whilst reading I was always on edge, expecting someone to do something rash and retaliate to something that was said or done. It was also insinuate at the beginning, that despite Jasper's imprisonment, revenge hadn't really been taken so you are always cautious yet excited as to when something explosive is going to happen.
This is also increased with the growing friendship between Jasper and his niece Joanna.
Joanna, it seems, is the only character who doesn't know the crime that her uncle committed, therefore can't help but take a liking to him and their friendship grows and grows throughout. This may seem like an innocent act for Joanna who is oblivious to her uncle's weird nature, but it isn't for Jasper. Whenever they spend time together, we always get insight into the mindset of Jasper and his thoughts at the current moment, and some of the things he thinks/says just aren't right, if you get me!? making him an even weirder character.
I wouldn't say that this book is for the light-hearted, but is definitely one for those who love a good mystery/thriller. I thoroughly enjoyed it and thought that the writing was done exceptionally with brilliant descriptions and well thought out characters.