Hello and welcome to my top 7 Sunday. This week I shall be sharing what book series I want to read in 2017 (hence the title). I do love a good stand alone novel once in a while, but there is nothing that gets me going more than a series where the adventures never end. Obviously it's a bummer when you have to wait a year for the the next book to come out, but that is something that I hate to love about being immersed in a book series – the anticipation and excitement of the release date and then devouring said book in less than 24 hours. Complete bliss.
So here are 7 series that I want to begin/start/read in 2017. Enjoy!
Shatter Me series by Tahereh Mafi
Since becoming a member of the book community, this is a series that keeps popping up from time to time and calls my name to read it, but am yet to even start the first book.
However, I have recently purchased the first book in this series (Shatter Me) and am super excited to get started with reading it. It's 100% up my street as there is nothing I love more than a science fiction/dystopian book, especially in this moment in time as I am alllll over them sci-fi books. Give them all to me.This will most likely be my first new series of 2017 and I'm really hoping that it exceeds my expectations because I'm super pumped for it.
Also look at that cover, its beautiful!!!!
Song of Ice and Fire (aka Game of Thrones) by George R.R. Martin
Game of thrones is life. The show, the concept, the author, the writing – literally just everything.
I've already begun this series (currently half way through the 2nd/3rd book) and it's just incredible. Some of the things written are so beautiful it literally gives me goosebumps.
The only problem is with this series is that all the books are super big and they scare me a little if I'm being honest; I'm also one of those people who can easily get *bored* of a book and am eager to read something else, which is probably why I've barely finished any of the books despite them all staring at me from my bookshelf. This year I am adamant to finish at least half of the series as I do love it tonnes and the tv show is coming to an end soon and I need my GoT fix if you get me!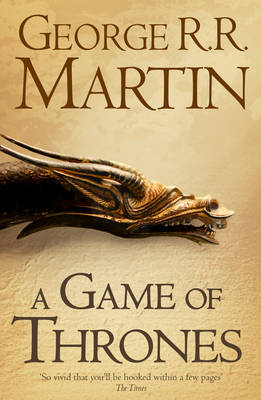 The Chronicles of Narnia series by C.S. Lewis
Narnia aka my most beloved childhood series. I received the complete book collection of this series in 2015 for Christmas off my dad as I was all for Narnia again, as it was my most favourite thing growing up, but have unfortunately only read 1 book. What even is that about they're not even long and they're amazing.
There is literally no excuse as to why I haven't read this series so far, so I am 100% achieving this goal in 2017.
A Series of Unfortunate Events series by Lemony Snicket
Who wouldn't want to read this series, seriously!? I watched the movie countless times throughout my years of growing older and now that the Netflix original series has been released, I'm even more eager to read it.
Many people I know have read this series and they said they've loved it, I mean I can see why, the whole concept of the series is fantastic and I can only imagine how brilliant the books will be. I am getting all over this asap.
The Kingkiller Chronicles series by Patrick Rothfuss
I hadn't really heard anything of this series until very recently when my mum read it, and ever since then all I hear from my mothers mouth is 'you've got to read this', so that is exactly what I am going to do, as she and many other people on Twitter rave about this series so much so I want to get involved and see what all the fuss is about. I've read the summary of the first book and it does seem like a pretty interesting read and most likely something that I would enjoy, so I'm super excited to start reading.
The Lord of the Rings series by J.R.R Tolkein.
In addition to Harry Potter, this has got to be the biggest fantasy series about. I'm not going to lie, I'm not really a big fan of The Lord of the Rings series, I haven't even watched all the movies as they result in me falling asleep all the time. But, I have however, read The Hobbit and it is one of my favourite books of all time, so I don't see why I won't love this series just as much. I adore everything about Tolkein's writing as everything is written with such thought and detail, leaving you with a clear, vivid image whilst reading immersing you into the story further. So this series is one I definitely want to get started, if not finish, this year.
Red Rising trilogy by Pierce Brown
Again, another series to which I have heard many wonderful things about. I see people rave about this series all the time on Instagram, Twitter and Goodreads, and for good reason. The concept of this story sounds super interesting and something that I would definitely enjoy – a story of determination, love and a gain of power, what is there not to love? Pierce Brown seems to be an amazing author, someone who has won many awards for this series alone and I can't wait to experience it first hand.
So there we have it, all of the 7 series I aim to start or finish in 2017. Knowing me I'll probably end up finishing like one and there will be a post exactly the same this time next year where all these books will make an appearance. But I am eager and determined to complete this reading goal of 2017 – I have faith that I'll do somewhat well.
What book series are you wanting to read in the future?