Author: Stephanie Garber
Publisher: Flatiron Books
Series: Caraval #1
Published: January 31st 2017
Rating: 4.5/5
Goodreads Summary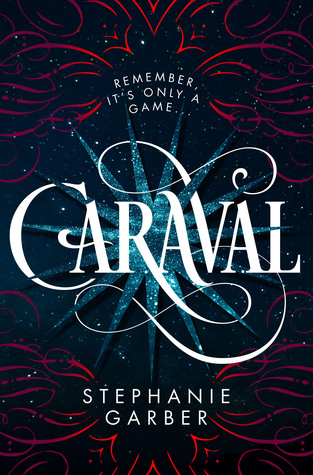 Whatever you've heard about Caraval, it doesn't compare to the reality. It's more than just a game
or a performance. It's the closest you'll ever find to magic in this world . . .
Welcome, welcome to Caraval―Stephanie Garber's sweeping tale of two sisters who escape their ruthless father when they enter the dangerous intrigue of a legendary game.
Scarlett has never left the tiny island where she and her beloved sister, Tella, live with their powerful, and cruel, father. Now Scarlett's father has arranged a marriage for her, and Scarlett thinks her dreams of seeing Caraval, the far-away, once-a-year performance where the audience participates in the show, are over.
But this year, Scarlett's long-dreamt of invitation finally arrives. With the help of a mysterious sailor, Tella whisks Scarlett away to the show. Only, as soon as they arrive, Tella is kidnapped by Caraval's mastermind organizer, Legend. It turns out that this season's Caraval revolves around Tella, and whoever finds her first is the winner.
Scarlett has been told that everything that happens during Caraval is only an elaborate performance. But she nevertheless becomes enmeshed in a game of love, heartbreak, and magic with the other players in the game. And whether Caraval is real or not, she must find Tella before the five nights of the game are over, a dangerous domino effect of consequences is set off, and her sister disappears forever.
Review

For me, this was one of the most highly anticipated books of 2017 so far. Everywhere I looked I saw this book – twitter, bookstragram, booktube – the whole lot, and every time I saw it, I got more and more eager to read the book. I've heard some people describe this book as 'young adult version of the Night Circus' so I'm sure that if you enjoyed that, like most people have, then you'll most likely enjoy this book also.
Prior to reading this book, I was in an extremely long reading slump and despite wanting to read all the books, I just couldn't muster up any motivation to do so, until this book. I was motivated to read this book as I was due to go to a signing for this book so I obviously wanted to read it before I went there because otherwise it's just not as fun. So if anything I would like to thank this book and Stephanie Garber for getting me out of my slump!
Before really getting into this book there was already a sense of mystery and excitement surrounding you whilst reading, as just like the characters, sisters Scarlett and Tella, you are given very little knowledge surrounding the mysterious Caraval apart from the fact it is unlike anything else before it. Because of this, I felt like I could really connect and understand the characters on a deeper level as you begin to understand their longing to escape the daily drudge of their rubbish lives and their terrible, terrible father.
It is no surprise that the two sisters eventually make it to Caraval, and once they do that is when things began to get really interesting. As the story is told from the perspective of the protagonist, Scarlett, we are limited to everything she knows and that is not a lot. However, due to this it really immerses you into the story and the whole 'remember it's only a game' slogan, as you are constantly left wondering whether it is all a game as there are no indications of whether or not it is. Due to this, you yourself get the whole Caraval experience as you follow Scarlett through the 'game' attempting to find her sister and trying to work out what is reality and what is not.
This feature alone made me truly love this book and that's with leaving out the beautiful imagery of the magical changing dress, the carousel of roses and the beautiful night sky. Definitely a perfect balance of mystery, enchantment and beauty.
All we really know about Caraval is that you shouldn't get too immersed into the game, as it is in fact a game therefore everything and anything that happens whilst there is not real; Tella (Scarlett's sister) has become apart of the game herself, with the aim of it is to find her through clues scattered throughout the city; and that the winner receives one wish. So as you can see, from the offset you are plunged straight in there with super thrilling stuff. I was very excited.
In addition to the swoon-worthy mysterious surroundings and imagery, no book is complete without a swoon-worthy mysterious character. Of course, Scarlett herself is enough in her elegant and enchanting dress mixed in with her utter determination to find her missing sister before it is too late, but then there is also Julian. Julian becomes Scarlett's somewhat companion and expert in Caraval itself and searching for Tella, Scarlett's missing sister, and he himself becomes a slight mystery throughout. Although we know he is more than willing to help Scarlett in her mission, we don't really know anything about him personally and whether or not he has any ulterior motives. As it progresses you find yourself becoming more and more in love with Julian and slightly more sceptical about who he really is, in addition to tying to solve the mystery of the missing sister and strange happenings.
To further add to the mystery and suspense of this book (I know so much mystery it's fantastic!) before she left, Scarlett was due to marry a count (unknown name, residence or occupation) and had to be back within the time of Caraval in order to marry him so she could get her and her sister away from their abusive and awful father. So as the story continues the suspense and tension is building up and you can sense that sometime soon it is all going to boil over and explode, you just don't know when and that's the greatness of it. The complete unexpectedness of what is around the corner, I absolutely love it!
As you can tell from my over-enthusiastic words, I extremely enjoyed this book and would definitely recommend it to anyone who loves magic, romance and being on the edge of your seat jiggling about with tension filled limbs.
Brilliant book and very excellently written. I seriously can not wait for the next book.

Interesting fact: this book has recently been picked up to become a film, so if that makes it more exciting I don't know what does. It is going to be beautiful.