Author: Renée Ahdieh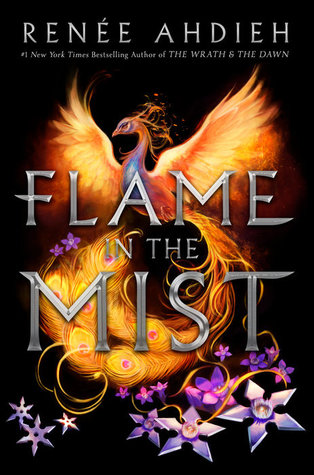 Publisher: Hodder & Stoughton
Series: Flame in the Mist #1
Published: May 16th 2017
Rating: 5/5
Goodreads Overview
The only daughter of a prominent samurai, Mariko has always known she'd been raised for one purpose and one purpose only: to marry. Never mind her cunning, which rivals that of her twin brother, Kenshin, or her skills as an accomplished alchemist. Since Mariko was not born a boy, her fate was sealed the moment she drew her first breath.
So, at just seventeen years old, Mariko is sent to the imperial palace to meet her betrothed, a man she did not choose, for the very first time. But the journey is cut short when Mariko's convoy is viciously attacked by the Black Clan, a dangerous group of bandits who've been hired to kill Mariko before she reaches the palace.
The lone survivor, Mariko narrowly escapes to the woods, where she plots her revenge. Dressed as a peasant boy, she sets out to infiltrate the Black Clan and hunt down those responsible for the target on her back. Once she's within their ranks, though, Mariko finds for the first time she's appreciated for her intellect and abilities. She even finds herself falling in love—a love that will force her to question everything she's ever known about her family, her purpose, and her deepest desires.
The Review
If you wasn't already aware, this book is a Mulan retelling and a very good one at that. Mulan for me growing up was always that Disney Princess that defied expectations and showed young girls and women that they could pursue and achieve anything if they put their minds to it. In today's society, women are constantly subjugated because of their gender and there are always expectations where we should only be pretty and care for a family. Which of course it utterly wrong. Much like Mulan, 'Flame in the Mist' has many lessons for young women and girls and shows them how they should stand up for themselves and not be treated like you are unworthy purely because you are not a man. It shows us how we shouldn't conform to stereotypes given to us over the years and that they certainly do not determine who you are or what you can achieve in life. I am very thankful for this book and the hype that is surrounding it, as I believe that girls should be reminded of this and be told they can achieve and do anything. Thank you Renée for writing this book and being utterly fantastic!
In addition to the enlightening and inspiring messages this book conveys it is also highly entertaining and a fantastic read! I will admit that it took me a little while to get into it properly, but one I did, I was a machine – I just couldn't stop reading. Every chapter left you longing for more – more information and answers; more of the beloved characters who are slowly revealing themselves to you as you turn each page; more the mysteries surrounding the book, edging you to turn one more page. Never once was there a point where I couldn't be bothered to read anymore – the writing and the storytelling were extremely gripping.
This is the first book I have read of Renée's but I have heard that her other duology which she is most known for – 'The Wrath and the Dawn' – is supposed to be equally as brilliant, so I will definitely be delving into that some time soon. Very exciting!
In terms of characters, they are utterly charming – well most of them anyway. The protagonist Mariko wasn't someone that I thought I would like as much as I do as I initially thought she was very stubborn and slightly irritating, but as I carried on reading she ultimately grew on me and now I adore her!
On her way to new life that is arranged by her father (classic dad move), her convoy is ambushed by the notorious Black Clan and she is left for dead. However, she makes it out alive and makes it her mission to find out why the Black Clan tried to kill her, whilst also enjoying a sense of freedom. She cuts her hair and pretends to be a boy in order to infiltrate the enemy's group and learn their secrets in order to get the answers she most desperately desires. Coming from a pretty well-off family, gathering firewood, slugging through dirt and not bathing for days isn't something that Mariko is used to, so it is quite admirable to watch her battle through the mud and the pain in order to achieve her goals, despite all her life being told she is incapable of doing anything other than being a pretty, mannerly girl. Whilst we are on the topic of defying expectations, I would like to point out how unlike the majority of female protagonists who fall head over heels for any man that looks her way, Mariko did not. It was utterly refreshing to see her not instantly fall in love with a boy in their first 20 seconds of meeting each other, even if he is the enemy. This happens so often in YA books and it's so unrealistic and irritating, so thank goodness Mariko has come along and restored our faith in female protagonists who shows us they are so much more than a girl who needs a man to make her story interesting and exciting.
In terms of the other characters in the book, they are also equally as interesting. You have the members of the Black Clan: Ranmaru -the leader of the clan, who despite many rumors and story's isn't as bad as everyone makes him out to be; Yoshi – a cook with a wooden leg who makes the tastiest boiled eggs around (so I've heard) and is also the most precious and lovely character; Ren – a boy who has seen some terrible things in his life, and despite his tough demeanor, cares for his clan with the utmost loyalty; and finally Ókami – or otherwise known as Wolf. A lazy, heard-hearted warrior who favours loyalty over anything else and carries the most mystery above anyone else.
In addition the perspective of Mariko, we also get snippets of other characters also, one of them being Mariko's twin brother Kenshin who is the most notorious samurai around and loves a girl he can not have. O can't quite put my finger on whether or not I am a fan of him yet as although he loves his sister above anything else, he is also a major tool and needs to stop living in his fathers shadow – I do believe has great potential to become a very intriguing character, and hopefully one that will make better choices in the forthcoming book.
As you can probably tell, I immensely enjoyed this book and am already desperate the next one as it ended on a very surprising and very interesting cliffhanger. I honestly don't know how I am going to cope with waiting until next year for the next book, but I can be certain it is definitely going to be worth the wait.
I would very much recommend to anyone that wants to feel empowered and loves a book with great characters, nice writing and a very gripping story line.
Favourite Quote: 'I believe that stars align so that souls can find one another. Whether they are meant to be souls in love or souls in life remains to be seen' 
I hope you all pick up this book and love it as much as I did. If so, please let me know either in the comments or on social media so we can have a full in depth chat about how great it is!
Have a wonderful and I'll see you soon,
Zoe