Author: Sandhya Menon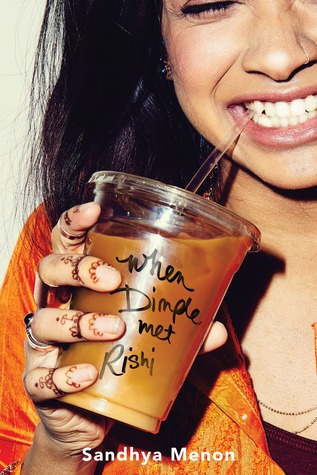 Publisher: Hodder & Stoughton
Series: Stand Alone
Published:  May 30th 2017
Rating: 4/5
*thank you Netgalley and Hodder & Stoughton for giving me access for this book in exchange for a honest review* much appreciated.
Goodreads Summary
A New York Times bestseller
The rom-com that everyone's talking about! Eleanor & Park meets Bollywood in this hilarious and heartfelt novel about two Indian-American teens whose parents conspire to arrange their marriage.
Dimple Shah has it all figured out. With graduation behind her, she's more than ready for a break from her family, from Mamma's inexplicable obsession with her finding the "Ideal Indian Husband." Ugh. Dimple knows they must respect her principles on some level, though. If they truly believed she needed a husband right now, they wouldn't have paid for her to attend a summer program for aspiring web developers…right?
Rishi Patel is a hopeless romantic. So when his parents tell him that his future wife will be attending the same summer program as him—wherein he'll have to woo her—he's totally on board. Because as silly as it sounds to most people in his life, Rishi wants to be arranged, believes in the power of tradition, stability, and being a part of something much bigger than himself.
The Shahs and Patels didn't mean to start turning the wheels on this "suggested arrangement" so early in their children's lives, but when they noticed them both gravitate toward the same summer program, they figured, Why not?
Dimple and Rishi may think they have each other figured out. But when opposites clash, love works hard to prove itself in the most unexpected ways.
The Review
This is one of those books that you see absolutely everywhere – Twitter, Instagram – that everybody seems to be loving and you know that before you even read it, you know you're going to enjoy it very much also. I don't know about you, but whenever Summer hits I am always in the mood for a good contemporary novel to sit up all night and reading and waste them blissfully hot days reading a book that makes your heart feel as warm as your body. This is absolutely perfect for that kind of thing. Before reading this book I knew I was going to like it, just not as much as I expected. It was fun and refreshing from the typical YA contemporaries you are used to – although I must admit that some things were a bit cliché and cheesy at times (especially the ending), but isn't that what makes theses kind of books so lovable? The kind where you can just let go of everything and delve into the life and world of someone else for a few short hours?
I think Sandhya perfectly captured the teenage part of this book that focuses on other things of an 18 year-olds life that doesn't revolve around love and having a romantic relationship. Instead, she points out through the protagonist of Dimple that there are much more important things to life than finding a suitable husband to care for her. Instead Dimple is much more focused on her career in web/app development after being accepted into Stanford, and finding a suitable husband is by far the last thing on her mind. I think this is an important message for the younger generation as it influences them to go their own path  and do what they want in life — and if we're going to go all feminist, which I usually do, that women don't need a man in life to succeed of take care of her. I absolutely love it! However, Dimple's mother does not. Being the only child of her parents, Dimple's mother constantly puts pressure on Dimple to find a suitable husband and settle down with him and make children – something Dimple really does not want to do. Dimple is a headstrong individual who is extremely passionate about coding and web development, much to her parents disappointment. To further her skills and get some good connections in the industry, she goes to 'Insomnia Con' (which her parents very surprisingly agree too) in San Fransisco which is a 6 week programme/competition where people compete to create the best app idea in order to win a prize at the end. Of course everything was almost too good to be true. This is where we meet Rishi – the boy in which her parents secretly arranged Dimple to marry and meet at said competition – very, very sneaky.
Rishi himself is a complete cherub and I would date him if I got the chance to because he has the whole package – good looks, charm, sense of humor, decency, morality and a passion for comic book art (honestly I could keep going). He is the prime example of 'adorkable'. Much to Dimple's dismay he is her partner for the app and they have to work together for 6 weeks developing her app which she has invested endless amounts of time working on, so you can imagine how that all turns out… or can you!??? In addition to being Dimple's love interest and 'Insomnia Con' partner, to me he is also someone who allows you as the reader to learn about the Hindu culture. Throughout references to Hindu and Hindu language are seamlessly integrated throughout ranging from anecdotes from Rishi at dinner time which are an absolute pleasure as they transport you to another culture and also through conversations with parents where snippets of Hindu language are shown and we get a glimpse of their traditions – something which I personally am not very familiar with, but found it very interesting to read about as I think it's such a beautiful culture.
It was so fun and nice to read and had me up most nights reading late because I just couldn't put it down. I loved seeing Dimple and Rishi's relationship grown as well as intertwining with their own personal dreams such as Dimple's app and Rishi's outstanding talent and love for comic book art and how they have to battle through obstacles, parents and privileged white rich boys putting them down because they deem themselves somewhat superior because their dads can pay for anything and everything and have never struggled for anything in their lives! Very sorry but them characters really irritate me because that is what some people are like and it's frustrating!! But the fact that they are that frustrating just proves how good this book is as it makes you think and understand these things and how some people are prejudiced just because of the colour of the skin and I'm just glad someone has finally pointed it out, you go girl!
I would certainly pick up this book if you like me you love a good heart-warming contemporary read that will make you chuckle and smile from start to finish. Also great if you want to feel empowered about achieving your goals and doing what you want in life despite not being what other people may want you to do. BE WHO YOU ARE AND DO WHAT YOU DESIRE!