Waiting on Wednesday is a weekly meme hosted by Breaking the Spine that spotlights highly anticipated upcoming releases.
Here is what I'm currently waiting for!
Renegades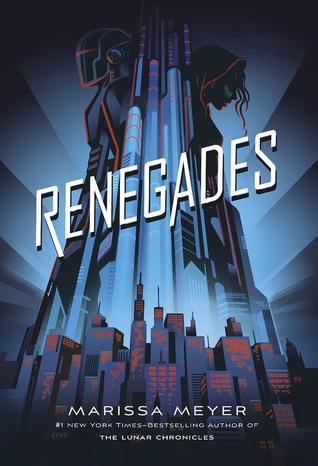 Author: Marissa Meyer
Series: Renegades #1
Publisher: Feiwel and Friends
Publication Date: November 7th 2017
Goodreads Summary

Secret Identities.
Extraordinary Powers.
She wants vengeance. He wants justice.
The Renegades are a syndicate of prodigies—humans with extraordinary abilities—who emerged from the ruins of a crumbled society and established peace and order where chaos reigned. As champions of justice, they remain a symbol of hope and courage to everyone…except the villains they once overthrew.
Nova has a reason to hate the Renegades, and she is on a mission for vengeance. As she gets closer to her target, she meets Adrian, a Renegade boy who believes in justice—and in Nova. But Nova's allegiance is to a villain who has the power to end them both.
Why I'm Waiting
If you've been following me for a while on my blog or Twitter or Instagram, then you will know that I a huge fan of everything Marissa Meyer does. So when it was released that she was bringing out another book, it would be safe to say I squealed a little bit. In addition to this, this book seems like a pretty great book already, there's nothing I love more than a bit of sci-fi and a fight for justice and vengeance; they are always so exciting and gripping – I just know Marissa is going to do a great job with it and I honestly can not wait!
What books are you currently waiting for?
Thanks again,
Zoe