Hello and welcome to another blog post!!! I hope you're all having a spectacular day and Summer. For many people (especially in England), you have now broken up from education for the summer. Hooray!! If you're like me, then summer to you is the perfect opportunity to sit around all day doing nothing but reading. So in honour of catching up on that ever-growing TBR, I have compiled a list of books, of different genres, that I would recommend to read in the summer if you're stuck on what to read and fancy something easy or maybe a little different.
I hope I can help make your summer reading a little better and you read lots of great books!
Contemporary 
Eleanor and Park – Rainbow Rowell

This was one of my favourite summer reads of 2017, so of course I'm recommending that you read it this year. Naturally. It was a really light, easy read that I actually read in one day. It's based around 2 high school teenagers called Eleanor and Park, and dealing with parents, identity, friendship and of course, dreaded high school. It was my first Rainbow Rowell book and I was pleasantly surprised by it – her writing style is very casual and doesn't take much effort at all to read, so it's perfect to dive into whilst lazing about in the sun and sipping lemonade. The characters are extremely loveable and you're rooting for them throughout the book. I wrote a review on this book (you can find it here), so if it's something that you're interested in, go check it out for more information.
Just a bit of a warning, this book does deal with some forms of emotional abuse from Eleanor's stepfather to Eleanor, which isn't a very popular subject in many YA novels, but it just makes this book more great as it raises awareness of what can happen behind closed doors and teaches you that you shouldn't judge someone as you never know what is going on at home. It is safe to say that this book took me on a roller coaster of emotions and taught me quite a few life lessons.
The Spectacular Now by Tim Tharp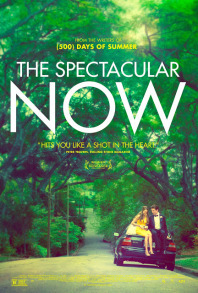 Again, another book that I read last summer and really enjoyed. Whenever I think about summer, this book always comes to mind, as for me, it captures an American high school teenagers summer perfectly (well what I'd imagine it to be like, sorry for the stereotypes) so it's brilliant to get a snippet of someone else's summer break and it's overall just brilliant. It has comedy, love and a little bit of drama – everything you could want in a contemporary. It's based around two high school students who are totally different to each other, but as they enter each other's lives, they change them for the better without even realising. You have Sutter, the party guy who is bound to get everyone up dancing and has no plans for university or ambition at all; and Aimee, who is described as a social disaster. I wouldn't say it's your typical contemporary as everything isn't all sunshine and rainbows, but I loved it. Additionally, if you're interested but can't really be bothered reading it, then you can always watch the movie which is equally as entertaining and stars Miles Teller and Shailene Woodley.
Dream a Little Dream by Giovanna Fletcher

If you've been reading my book reviews for a while, then you will know that I am quite the fan of Giovanna Fletcher's book. It'd be safe to say that she is up there with one of my favourite contemporary/romance writers. Her books are always so pleasant to read and her characters and plot lines never fail to entertain and make you love. This book in particular, is one of my favourite of hers as it's very different from the rest as it's slightly more intriguing and different. The story revolves around protagonist Sarah who begins dreaming about a random stranger, who makes an unexpected real-life appearance, leaving Sarah questioning certain things about her life. The tag line is 'no one ever really finds the person of their dreams… do they?' and that just makes me so excited!!! It was a brilliant book and absolutely perfect for summer as it's wonderfully light-hearted and actually made me laugh out loud sometimes, so of course would 100% recommend to read over the summer. I also have a book review for this book here, if you want more information on this also.
Safe Haven – Nicholas Sparks

You're probably thinking, urgh Nicholas Sprarks, barf. But honestly this book was sooo good and wasn't as cringey as I  thought it would be. Of course the romance was a little barfy, but it honestly wasn't as bad as the other books/films as it focused more on character development and building and the protagonist escaping from her abusive husband. If you don't know what this book is about, then let me explain. Katie was in a very abusive marriage, so she fled in the middle of the night, changed her appearance and name and moved to the idyllic town in South Port, California and let me tell you it is lovely. The setting is the main reason I am putting this book on summer read recommendations as it's the perfect setting for a summer book and completely transports you to the perfect town for the summer. It kind of makes the sinisiter backstory feel a little more lighthearted. So the book basically revolves around Katie adjusting to her new life and her growing interest in the ever-so-charming store owner Alex. It was actually a really lovely read and whenever I think of summer I always think of this book also, as for me it is the perfect summer read. Again, if you like the sound but don't really want to read it, there is also a movie out starring Julianne Hough and Josh Duhamel.
Fantasy
A Darker Shade of Magic by V.E. Shwab

First thing first, be prepared for this book to be on every single book recommendation post in the future, because this series is absolutely incredible! It has quickly become one of my most loved series – I'm currently reading 'A Conjuring of Light' (the last book in the trilogy), and I desperately don't want it to end as I love it so much and the characters are some of my favourites. The thought of any of them dying just makes me want to cry. If you aren't aware of what it is about, then where have you been??? The protagonist Kell is one of the last Antari – an extremely powerful magician and one of the only people who has the ability to travel between parallel Londons – Red, Grey, White and once Black. In addition to an official ambassador for the royals, he is also and unofficial smuggler between worlds and when a smuggle goes awry everything more or less goes to pot and he and his newly found companion, Delilah Bard aka the most incredible character in any book ever, they must go on a mission to try and save the Londons from power hungry royals and those desperate for power. Honestly it is the most incredible series I have ever read. I would 1000% recommend. Please read it. It's perfect for those, who like me, aren't too fond of summer and long for the short Autumn days where it's acceptable to wear fluffy jumpers and coats and you wish to be transported to rainy, cooler days.
Once I've finished 'A Conjuring of Light', I'll be posting a whole series spoilerish review.
Percy Jackson by Rick Riordan

By now, I'm pretty sure everyone and their mother (including my mother) has read the Percy Jackson series, but if not you should. If you've been living under a rock, then you won't know that Percy Jackson is about the Greek Gods and that he is the son of Posiedon and has to go on missions given to him and his fellow half-bloods (one of their parents is also a God), by an oracle to save their camp and the world from deadly creatures and villains. If you can't tell from that, it is a bloody brilliant series and you should at least read one of the books in your lifetime as I can more or less guarantee that you will love it. It even has a little bit of romance for those of you and love a little bit of love. It's extremely easy to read so you won't need to put much effort into it and for me it never gets boring as there is always something happening such as monsters attacking or Gods throwing a tantrum. Additionally, it is very humorous and who does't love some humour in their books because I know I certainly do, it just makes the whole reading experience a whole lot more enjoyable.
There are so many more books I could recommend to you, but then this post would be like 10,000 words long and nobody wants to read that. So these are the books that are highest on my list of summer recommendations. Make sure to let me know if you have read, or read any of these books and what you think of them.
I hope you all have a fantastic summer and read lots of books!!!
Zoe.