If you're into YA literature, then you've most likely heard of/read some of Sarah J. Maas's book – particular the 'Throne of Glass' series. If not, then I shall fill you in: 'Throne of Glass' is a series about an assassin turned Fae princess and warrior who is fighting against bloody-thirsty kings and queens and those seeking unimaginable power and cause way too much death and destruction. Of course lot's of other exciting stuff happens and tonnes of swoon-worthy characters are introduced but that is the general jist and it is fantastic! 'Tower of Dawn' is 'volume 2 of ToG 5' as it isn't a direct sequel to its predecessor 'Empire of Storms', but more of a parallel novel that takes place during the events of the book, mainly focusing (I believe) on the character of Chaol.
I personally am very much looking forward to this, despite the fact the only characters I'm actually really bothered about are Manon, Dorian and Abraxos, I actually also really do like the character of Chaol and I'm glad he has a book where he can shine, as I think he's been a little abandoned in the previous few books. So, welcome back Chaol.
Now, what you're all here – THE COVER REAL – well here it is: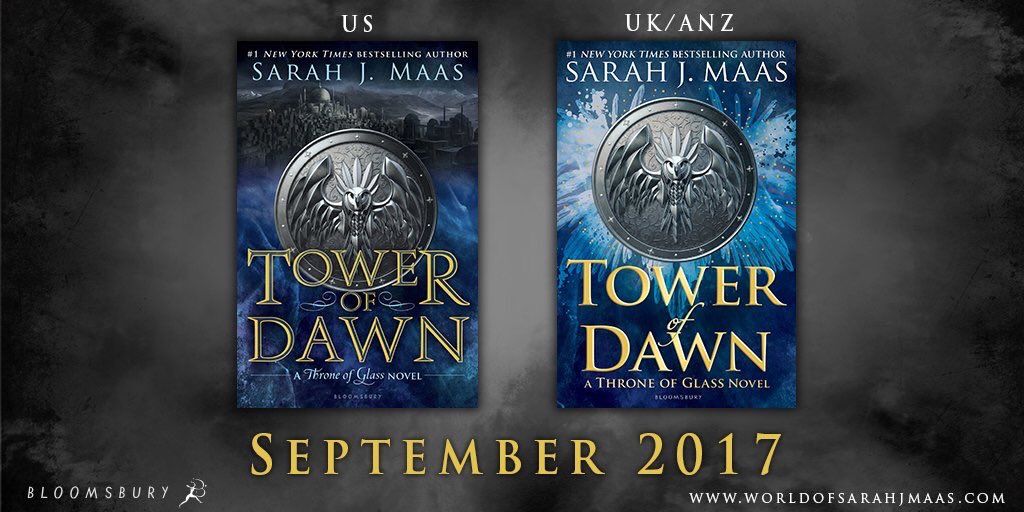 I, for one, am very much a fan of these covers and prefer them much more than the original ToG covers – that may be because I'm just not a fan of book covers with faces/people on them in general – but I think they give the book a different edge and makes me more excited for the book to be released in September (which also incidentally the month I turn 21. Happy birthday to me).
Goodreads Summary – in case you were interested to see what the book is actually about:
In the next installment of the New York Times bestselling Throne of Glass series, follow Chaol on his sweeping journey to a distant empire.
Chaol Westfall has always defined himself by his unwavering loyalty, his strength, and his position as the Captain of the Guard. But all of that has changed since the glass castle shattered, since his men were slaughtered, since the King of Adarlan spared him from a killing blow, but left his body broken.
His only shot at recovery lies with the legendary healers of the Torre Cesme in Antica—the stronghold of the southern continent's mighty empire. And with war looming over Dorian and Aelin back home, their survival might lie with Chaol and Nesryn convincing its rulers to ally with them.
But what they discover in Antica will change them both—and be more vital to saving Erilea than they could have imagined.
What are your thoughts on the new cover?