Author: V.E Shwab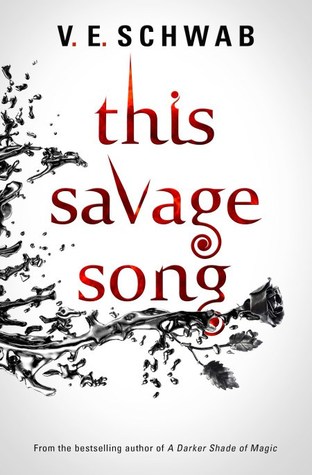 Publisher: Titan Books
Series: Monsters of Verity #1
Published:  July 5th 2016
Rating: 4/5
Goodreads Summary
Kate Harker and August Flynn's families rule opposite ends of Verity, a grisly metropolis where violent acts summon real monsters: bloodsucking Malchai; clawing Corsai; and soul-stealing Sunai. The truce that keeps the families at peace is crumbling, and August is sent to spy on Kate. But when Harker's men try to kill her and pin it on the Flynns, August and Kate find themselves running from both sides, in a city where monsters are real…
If you happen to follow me on any form of social media, then you will know that this is the year that I fell in love with V.E Shwab. I read her 'Darker Shades of Magic' trilogy this year and is now my all time favourite book series. It is phenomenal. So, of course I had to pick up her other hyped book series – 'The Monsters of Verity' duology. I wasn't as excited about reading it as I was about 'A Darker Shade of Magic', but it is definitely something which I have never really read before, so greeted it with open arms.
I wasn't too thrilled at first I'm not going to lie, as there wasn't really that much excitement and not a lot seemed to happen, especially in the first 120-150 pages or so. However, despite this fact I didn't actually get bored and the pages seemed to fly by – so I suppose it wasn't that bad at all. I feel like my main problem was that because I loved her 'Darker Shade of Magic' trilogy so much, I was constantly, mentally comparing the two first books which isn't very good at all as they're both very different books, set in different times, places and about completely opposite things.
One of the main things I loved about this book was that none of them were perfect characters – either physically or mentally – which I think is fantastic as in books these days, protagonists tend to be too perfect and it's so unrealistic. It's great to have diversity in books as it makes them so much more interesting and it allows more people to relate to them, and everyone needs that. One of the protagonists, August Flynn, who is on one side of the opposing families fighting to keep the monsters of verity at bay, is himself a monster – a monster who feeds off souls by bringing them forward with the beautiful melodies of his violin. Like many people, August doesn't particularly like who is and wants to be someone else, showing his internal battle with survival, instinct and what he thinks is right. Kate Harker on the other hand, who is the other family running Verity, who like to make people pay for protection and keeps the monsters as 'pets', most certainly likes who she is but has some issues of her own. She has a father who neglects her and can not hear out of one ear due to any accident when she was younger that killed her mother. Despite all of these things, I grew to love and adore these characters as they battled against monsters, both human and not, and fought against what everyone thought was right and fought for what everyone thought was wrong.
Like I previously stated, this book is something that I have never read or come across before – of course there are elements which have been seen in other books, such as opposing teams coming together for the greater good etc, but it is so much more than that and V.E Schwab does it perfectly once more. The monsters themselves are all varied versions of each other: there is the Sunai – which August is who can only hunt those who have caused violence or made someone else cause some sort of violence or death; Corsai – which are very, very creepy who are kind of like hyenas mixed with bats as they eat all the scraps of the body that is left behind and can not come out in daylight, but are super creepy and would 100% recommend not going near one of these; then there is the Malchai – who are described as being somewhat vampire without the vampiric characteristics (can't go out in daylight, only drink from the neck), but do feed from blood and are truly menacing and conniving. The main Malchai in the book is Kate Harker's dad's 'pet' and he truly is the most awful character of them all. He's extremely menacing, constantly taunts Kate and gave me the creeps from the start to the finish – just really not a nice guy at all.
The real action really starts, however, when Kate is attacked by a group of Malchai who attempt to kill her in order to frame August's family – the Flynn's – and break the treaty of the two families and start a war in Verity. Of course Kate and August are having none of that, so whilst trying to hide Kate from virtually every single person and monster in Verity so she doesn't get killed, there are also trying to figure out who and why people are trying to kill her. I tell you know, its all very exciting and intense, I literally couldn't put it down. It was too good.
You may be thinking that August and Kate are the only two good characters in this book, but fear not there is someone even better and she comes in the form of August's non-biological sister; I mean of course his 'mother' and 'father' are lovely, but Isla is just another level – she gives me serious Luna Lovegood vibes as she is the sweetest person ever and has just the right amount of 'uniqueness' (some people may call it crazy, but they are wrong), that will just make you want to seriously be her friend. Just like August, and his older 'brother' Leo, she is also a Sunai and the most powerful one – but she never lets that side show. She quickly became one of my most-loved characters within this series, if not out of all the books I've read and once you read this book too, you will certainly understand why. She is such a precious, delicate flower that needs protecting and wrapping in bubble wrap. I honestly could on for paragraphs expressing my love and gratitude for her, but I'll you discover the rest.
Overall, I gave it a solid 4/5 stars, as it wasn't as good as 'A Darker Shade of Magic', but to be fair can anything really beat that series? I'm honestly not quite sure, but the writing was brilliant as always and the character, plot and diversity were spot on – I just wish it wasn't a duology and maybe a little bit more exciting would've happened within the first half of the book. But, apart from that a brilliant book and would 100% recommend to anyone who loves kickass female characters and slightly creepy monsters.